UNDEAD M.U.S.C.L.E FOUND IN GUM MACHINE!
M.U.S.C.L.E enthusiast stunned!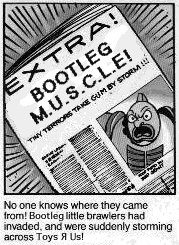 Reports are coming in that rather than petitioning for the return of M.U.S.C.L.E, sinister gum machine cartels have taken the law into their own hands, boots and legs to bring back M.U.S.C.L.E. This from our Toys R Us correspondant, Brant Snell: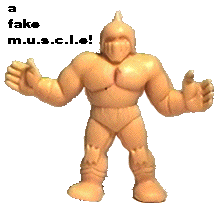 Quarter machine


"At Toys R Us here (by the way I am from Little Rock, AR, in the Southern part of the United States) they have a row of what we call "quarter machines" which I am sure you have too. Well, one particular machine was filled with rubber robots and dinosaurs (including some bootlegs of Godzilla monsters, another favorite past-time of mine), when suddenly, after depositing a quarter, a pink MUSCLE came out !!!"